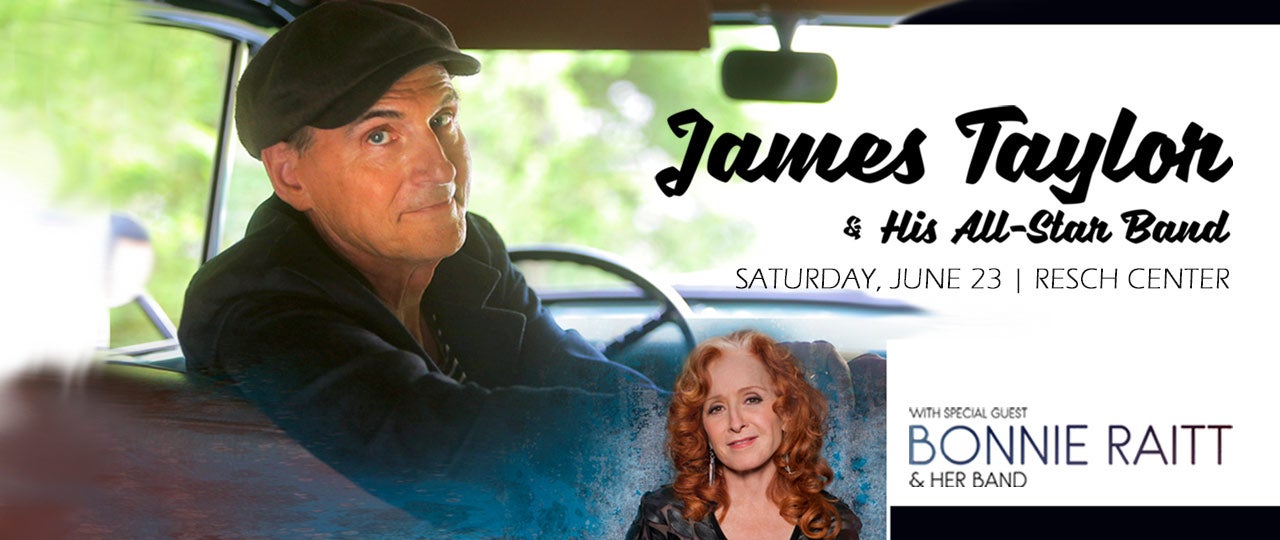 James Taylor & His All-Star Band
With Bonnie Raitt & Her Band
Event Description
Legendary singer/songwriter James Taylor and his All-Star Band with special guest Rock and Roll Hall of Famer Bonnie Raitt and her band are coming to RESCH CENTER on SATURDAY, JUNE 23 for one intimate and memorable night!
As a recording and touring artist, James Taylor has touched people with his warm baritone voice and distinctive style of guitar-playing for more than 40 years, while setting a precedent to which countless young musicians have aspired. Inducted into both the Rock and Roll Hall of Fame and the Songwriters Hall of Fame, the world-renowned artist has sold more than 100 million albums since he was first signed by The Beatles to their Apple Records label, and he has earned 40 gold, platinum, or multi-platinum awards. His Greatest Hits album alone sold more than 10 million copies. For more than forty years, Taylor has been a musical compass for his fans, articulating moments of pain and joy, and letting his listeners know that they are not alone. In 2015, James was awarded the Presidential Medal of Freedom. In 2016, he was a recipient of the Kennedy Center Honor.
More than just a best-selling artist, respected guitarist, expressive singer, and accomplished songwriter, Bonnie Raitt has become an institution in American music. The ten-time Grammy winner was inducted into the Rock and Roll Hall of Fame in 2000 and the Grammy Hall of Fame in 2015.
Share your Photos
Doors
Gold Star

Welcome to the Gold Star Ticket Experience!

A Gold Star Ticket is an added-value ticket that includes the ticket purchase price plus $10 of added-value to each ticket barcode. This added-value can be used for redemption at stationary concession stands for food and beverages and at The Team Store for souvenirs.

Great for Groups, Gifts and So Much More! Advantages of Added-Value Tickets:

Diminishes the need to carry cash. Tickets are easily scanned for payment, resulting in faster transaction speeds.
Families and groups can simplify outings by having funds already attached to tickets, allowing kids and group members to safely get their own concessions.
Corporations can provide their clients and guests a "beyond the seat" experience with value added for food, beverages and souvenirs directly to the ticket's barcode.
Tickets with added funds are perfect for all group gatherings, employee incentives, VIP packages and more
Directions & Parking

Parking is $10 and available in Lambeau Field.
We now accept credit card payments for parking, No need for cash!

Prepaid Parking is now available online only through Parking Panda.

For more information visit: Directions & Parking

ADA Parking is available in the Gold Lot adjacent to the Resch Center in front of Shopko Hall on a first come, first serve basis. If you have special needs please visit: Plan Your Visit
Special Needs
Do You Have A Question?
Band Line Up

Luis Conte - Percussion

Walt Fowler - Trumpet, Flugelhorn, Keyboards

Steve Gadd - Drums

Kevin Hays - Keyboards

Jimmy Johnson - Bass

Michael Landau - Guitar

Lou Marini - Sax, Flute, Clarinet

Kate Markowitz - Vocals

Arnolds McCuller - Vocals

Andrea Zonn - Vocals, Violin

Countdown to the Show!